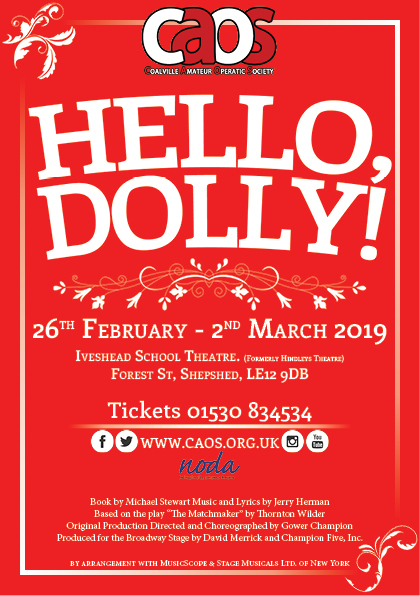 Hello, Dolly!
Showing 26th February – 2nd March 2019
A matchmaker named Dolly Levi takes a trip to Yonkers, New York to see the "well-known unmarried half-a-millionaire," Horace Vandergelder. While there, she convinces him, his two stock clerks and his niece and her beau to go to New York City. In New York, she fixes Vandergelder's clerks up with the woman Vandergelder had been courting and plots her way into his heart.
News & Updates:
24/10/2018: The Commemorative Centenary Book "100 Years of CAOS" is finished and will be available for order when the Box Office opens. You will also be able to get your hands on a copy at the theatre during the performance of Hello, Dolly! The book includes stories from Past and Present members, photos, news articles and much more. Priced at just £5.00 per copy.